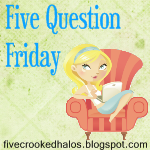 1. What is your favorite Easter tradition?
My mom's side didn't really celebrate Easter together, but my dad's side always has a huge get together. We grill burgers and hot dogs and have more food than you can imagine. The great thing is we are a family full of amazing cooks (I mean, have you seen my size? lol) After food and fellowship we have an egg hunt for the kids including a big prize egg with lots of goodies inside. It's great to spend time with family during the holiday.
2. Are you a "shower" or a "long, hot bath" kind of person?
I guess I'm more of a shower person right now. I love long, hot baths with bath bombs that make the water soft and smell so delicious and a good book, but I rarely take the time for that anymore. I usually just hop in and out of the shower as fast as I can. Maybe once school is out in a couple of weeks and life slows down a bit, I can put some of my Lush goodies to use.
3. C
an you
parallel
park and if so when is the last time you did it?
No I definitely cannot parallel park. I didn't do the driving portion of driver's ed with school, I did it at home so I never learned how to parallel park. Taking the driver's portion at home meant I didn't have to take the driving portion of the test to get my license either. I have had to parallel park once at school, and I was able to do it decently but I was pretty far from the curb. If there are several open and I can just drive straight into them, that isn't a problem. I am always nervous that I won't be able to get out when I leave, like the cars in front and behind will be too close to me. There isn't really much parallel parking in my area, just in downtown which I don't spend much time in.
4.
What is your
favorite
Easter candy?
Reese's Peanut Butter Eggs are my favorite. I love Easter candy in general: Sweet Tarts, Nerds, Butterfinger eggs, but these definitely take the cake! Peanut butter and chocolate is an amazing combination.
5.
Easter: do you go all out with the Easter Bunny or focus on the religious part of the holiday?
My family does in between. We get together on the Saturday before Easter and have the lunch/egg hunt extravaganza so that we can attend our different churches and functions on Sunday. Our family is pretty spread apart location-wise.